Jennifer Hudson hit plenty of emotional notes during the 51st annual Grammy Awards.

The singer collected the Sunday's first major award, best R&B album for her self-titled debut, making reference to her slain family in a tearful acceptance speech.

"Thank God, who brought me through," Hudson, 27, said on the Staples Center stage. "I'd like to thank my family in heaven – and those who are here today."

Hudson also thanked fiancé David Otunga, who told E! before the show, "the last few months have been an ordeal and it just brought us closer," for his support.

Later, the Grammy winner fought back more tears after earning a standing ovation for her power ballad "You Pulled Me Through." Hudson belted out the song in a black, sequined sheath with the backing of a choir. "I was in the darkness. I was out in the cold," she sang. "You reached out your arms to me ... pulled me back from the edge."


Major Winners
The night's biggest honor went to Robert Plant and Alison Krauss, whose Raising Sand was named album of the year. "I'm bewildered. In the old days we'd call this selling out," Plant said while accepting the award. "But I think it's a good way to spend a Sunday." The duo also won record of the year for their song "Please Read the Letter."

Eight-time nominee Lil Wayne picked up some high-profile trophies, including best rap album for Tha Carter III. In a pre-telecast ceremony, the rapper also nabbed awards for best rap solo performance for "A Milli" and best rap song for "Lollipop." Meanwhile, seven-time nominees Coldplay won song of the year for "Viva la Vida," as well as best rock album and best pop duo/vocal group.
British soul singer Adele Adkins bested the Jonas Brothers in the best new artist category.
Superstar Collaborations
Miley Cyrus & Taylor swift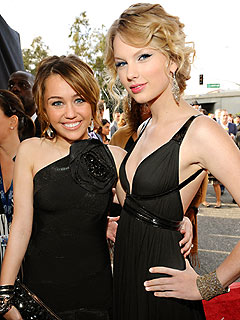 Known for unique live collaborations, this year's ceremony did not disappoint: In an acoustic segment, Miley Cyrusand Taylor Swift traded verses on a tender version of Swift's coming of age ballad, "Fifteen." "My best friend over there, Taylor, wrote [it]," Cyrus said, after their performance.

Justin Timberlake teamed with Al Green on a soulful version of his "Let's Stay Together," while Keith Urban played guitar. And best new artist nominees the Jonas Brothers powered through "Burnin' Up" with Stevie Wonder on keyboards (and vocoder), before transitioning into his hit "Superstition."




Early Awards
This year's ceremony – as always – focused heavily on major performances, with a majority of the 100-plus awards announced in a pre-telecast event.
Early winners included many of the evening's major contenders. Six-time nominee Ne-Yo collected two awards in the pre-telecast ceremony: He earned best male R&B vocal performance and best R&B song for "Miss Independent." And Kanye West and Estelle picked up best rap/sung collaboration for "American Boy." Among country artists, Carrie Underwood won best female country vocal solo for her song, "Last Name" and Brad Paisley earned best male country vocal solo performance, while Sugarland picked up best country song for their hit "Stay."

This entry was posted on Monday, February 09, 2009 and is filed under

Emotional Grammy

,

grammy awards

,

grammy awards2009

,

hollywood

,

hollywood awards

,

hollywood celebrity

,

hollywood gossips

,

hollywood news

,

Jennifer Hudson

. You can

leave a response

and follow any responses to this entry through the Subscribe to:

Post Comments (Atom)

.