Newlyweds Kristy Swanson and Lloyd Eisler, who tied the knot Feb. 7 in San Luis Obispo, threw yet another party this weekend: son Magnus's 2-year-old birthday bash.

About 80 guests gathered Sunday at the Tree House Social Club in Los Angeles for cupcakes from Crumbs Bake Shop and entertainment by singing group The Jumpitz.

"Magnus was in the middle of the dance floor performing with them," Swanson says of the five-member group, who also sang for Tori Spelling's son Liam and daughter Stella two weeks ago. "It was over-the-top fun!"


Magnus's birthday partyPhoto by: Spantman Photography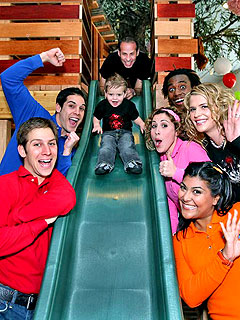 Skating with Celebrities winners Eisler and Swanson, who lost 45 lbs. in time for her wedding, plan to take a honeymoon at a later date.

"There was so much to do before the wedding," says the actress. "I didn't want to crash and burn and end up spending my honeymoon sleeping."

As for finally being able to call Eisler her husband: "I like it," she confirms. "Sometimes I jokingly call him my wife because he's such a Suzy Homemaker. He's great at doing the laundry and he's so good around the house. He's a wonderful team player."